Title:
The Melancholy Death of Oyster Boy & Other Stories
Author:
Tim Burton
Rating:
4 Stars
Genre:
Illustrated poetry
Synopsis:
From Amazon:
From breathtaking stop-action animation to bittersweet modern fairy tales, filmmaker Tim Burton has become known for his unique visual brilliance -- witty and macabre at once. Now he gives birth to a cast of gruesomely sympathetic children -- misunderstood outcasts who struggle to find love and belonging in their cruel, cruel worlds. His lovingly lurid illustrations evoke both the sweetness and the tragedy of these dark yet simple beings -- hopeful, hapless heroes who appeal to the ugly outsider in all of us, and let us laugh at a world we have long left behind (mostly anyway).
My Thoughts:
I love Tim Burton's distinctive style. And this has been the case for . . . always. I grew up with
The Nightmare Before Christmas
and
Edward Scissorhands
. He was definitely one of my introductions to the odd.
The Melancholy Death of Oyster Boy & Other Stories
(MDOB+) sits squarely in the odd and stylized world of his creation. One look at an illustration and you know it's by Tim Burton. There are very few modern artists I can pick out that easily.
The illustrated stories (Or poems? They're kind of both.) are very reminiscent of
The Nightmare Before Christmas
--not in content, but in the simplistic rhyming and unique turn of phrase. The cast of children in MDOB+ often suffer because of a small twist. For example, Staring Girl needs to rest her eyes. That's not done by napping, but by them jumping out of her skull and lounging by a pool. In these instances I kept returning to the
"Town Meeting Song,"
where sleigh becomes slay, and Santa Claus becomes Sandy Claws, a "big red lobster man. " These 'misunderstandings' are fun and interesting, especially since they seem like such logical mistakes. It makes me wonder what similar misunderstandings I made as a child not yet fully versed in the language.
Tragic characters in all their plastic glory
The images are what make this book so great. Without them, the poems lose a lot of their charm. If the poems were as wonderful as the drawings, MDOB+ could have easily captured all 5 stars in a review. But with some feeling too short, or a little incomplete, I must give it 4 stars.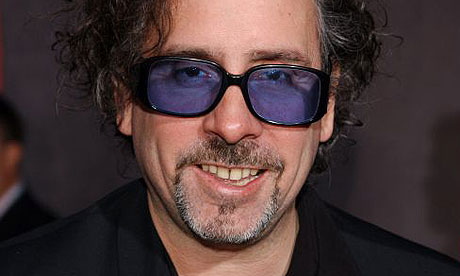 Photograph: Patrick Rideaux/Rex Features
Find Tim Burton online:
Website
|
IMDB


Do you like Tim Burton's visual perspective? What's your favorite Tim Burton work? Let me know in the comments below!