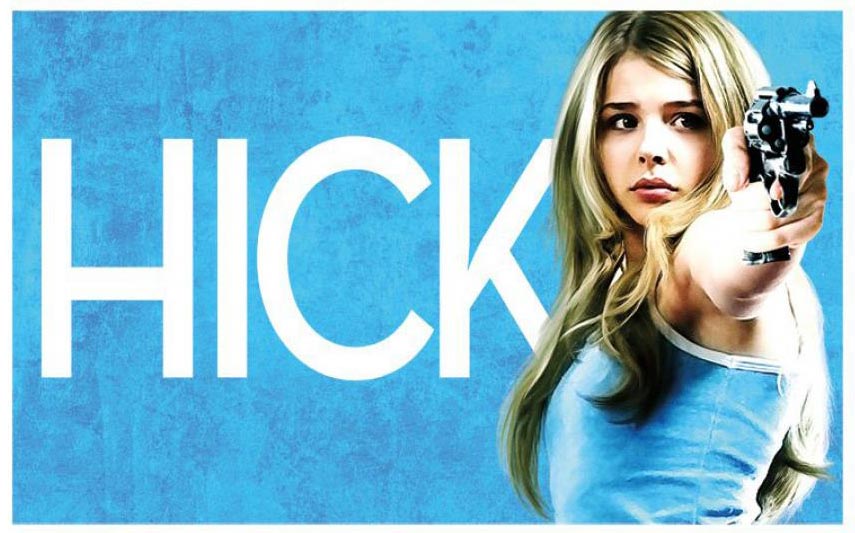 Title:
Hick
Rated:
R
Director:
Derick Martini
Writer:
Andrea Portes
Stars:
Chlöe Grace Moretz, Blake Lively, Eddie Readmayne
Rating:
4 Stars
Synopsis:
Tired of life with her drunken parents, 13-year old Luli (
Chlöe Grace Moretz
) starts a hitchhiking adventure from small town Nebraska to Las Vegas. Along her way she meets Eddie (
Eddie Readmayne
), a former rodeo cowboy with dangerous charm, and Glenda (
Blake Lively
), a coke snorting grifter with lots of advice. But the road to Vegas isn't as glamorous as her TV led her to think. Luli finds herself in one bad situation after another on the road in this coming-of-age story.
My Thoughts:
The driving force of this film is the phenomenal acting. The whole reason I picked this up is because I love Chlöe Grace Moretz on screen. She hasn't done anything I haven't liked, that I've seen at the time of writing this anyway. Blake Lively, who I've been pretty lukewarm up to this point, surprised me with this role and her portrayal. Then there's Eddie Readmayne. He's British! Not once during the film did he sound anything other than a Texan (or from some southwestern state). Usually I can pick up on 'false' accents, but not this time. Other great appearances include:
Juliette Lewis
,
Rory Culkin
,
Alec Baldwin
,
Anson Mount
, and
Ray McKinnon
.
Chlöe and Blake escaping a bad situation
As for the plot, it's meanders a bit. I like a story that doesn't feel forced, so this worked for me. Luli wasn't completely sure how she was going to get to Las Vegas, and her voyage reflected that. It's also a story that doesn't have a clear moral or message.
Portes
and
Martini
let the viewer take what they get out of the story. I really like this format, but I know it's not for everybody.
While I really liked the film, there were a couple of holes. First, Luli has a loaded gun with her. Yet she never brandishes it, even though there are plenty situations that would warrant it. Second, she has a wad of cash. After the first or second rough situation, why wouldn't Luli just buy a bus ticket? This is a character who had enough forethought to create a pros and cons list of going to Las Vegas, where the cons column had "might die." She knew the possibility, and I'm not sure if her need for love would overtake her survival instinct honed by years of self-raising.
But if she dies in Las Vegas, maybe she'll end up on CSI? Insta-fame!
Overall, I highly enjoyed watching this film. I can easily see myself re-watching in the future. This is a film not quite like anything else I've ever seen. If you like indie films or what you've read here, I recommend checking it out. If you're unsure,
Redbox has it!
And don't forget to check out the
novel
it's based on, also titled Hick and written by Andrea Portes
Have you seen Hick? What were your thoughts? Do you share my love of Chlöe Grace Moretz films? Tell me in the comments below!