Title:
Supernatural
Season:
1
Format:
DVD
Genres:
Drama, Horror, Fantasy
Creator:
Eric Kripke
Stars:
Jared Padalecki, Jensen Ackles, Jeffrey Dean Morgan
Rating:
4 Stars
Synopsis:
Sam's (Jared Padelecki) seemingly perfect college life is interrupted by his brother, Dean (Jensen Ackles), who cryptically states that their father hasn't checked in for a few days while on a hunting trip. We soon find out that papa Winchester hunts the beasts that go bump in the night.
Concerned enough, Sam joins Dean on a hunt for their father. It doesn't take them too long to run into spooky monsters—everything from angry spirits to demons to ancient and almost forgotten gods. The Winchesters will stop any evil creature that comes between them and reuniting their dysfunctional family.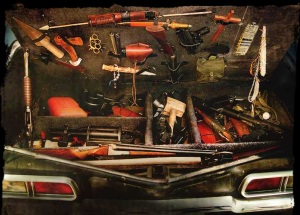 With an arsenal like this, no one will deny your status
as a character
My Thoughts:
I've been a fan of
Supernatural
since the get-go. It's hard to believe that it started in 2005. Even after just watching it again, it's hard to believe that it's over seven years old. Hardly anything is unintentionally dated. Most of the graphics and special effects hold up. The only 'old' bits are music and the Impala (which is pretty much its own character)—but it has the same effect as when the show first aired. These are classic standards that have already proven they can withstand the test of time.
The story itself is an amalgam of different plot levels. There's the surface of the brothers hunting the evil monsters, which is usually contained within an individual episode. Then there is the larger story arc of the brothers searching for their father. Even deeper is the Winchester family quest for revenge against the monster that killed mama Winchester. And deeper still is the machinations of the monsters the Winchesters hunt. While these storylines get immensely more complicated in the seasons to come, it's impressive for the first season.
The driving force and heart of
Supernatural
are Sam and Dean. Two dysfunctional brothers on an extremely long road trip across America searching for their family and futures. The chemistry between Padalecki and Ackles feels genuine. Some of my favorite moments from this season (and the entire series) are when they are being smart-asses to each other.
Special features include:
episode commentary, deleted scenes, gag reel, a day in the life, and a piece about their supernatural tales. The last disc also has exclusive link to online content, HOWEVER, I was unable to access it. It kept saying I didn't have a decoder, then gave me an http 500 error code whenever I clicked links to try and alleviate the issue. This is the main reason I deducted from my rating.
Hint:
On the DVD, go into the episode sub-menu to turn off the recaps—especially if you will be watching in marathons or without long gaps between episodes.
Hint #2:
Be ready with season 2—the cliffhanger is mighty and strong. This is the case for the entire series, which is torture when you watch it on TV.
Find Supernatural online:
Website
|
Facebook