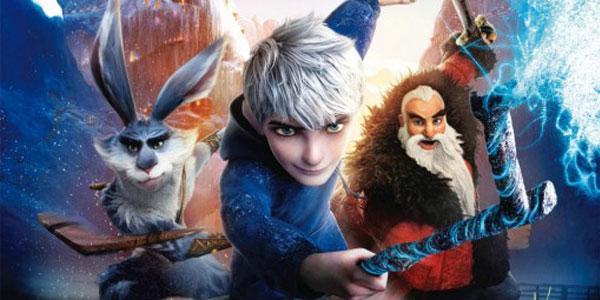 Title:
Rise of the Guardians
Rated:
PG
Genres:
Family, Adventure, Fantasy, Animated
Director:
Peter Ramsey
Production Company:
Dreamworks Animation
Writers:
David Lindsay-Abaire
(screenplay),
William Joyce
(book)
Stars:
Chris Pine
,
Alec Baldwin
,
Hugh Jackman
,
Jude Law
Rating:
4 Stars
Description:
When the evil Pitch, aka Boogie Man, begins to attack the children of Earth, the Immortal Guardians must fight back to protect their innocence. Santa Claus, Easter Bunny, Tooth Fairy, and Sandman use their unique abilities to preserve the children's belief. The Man in the Moon appoints Jack Frost as the newest Guardian. But will his mischievous ways do more harm than good? Can they stop Pitch from starting a reign of fear?
My Thoughts:
On the surface, this is a children's fantasy adventure film. But there is plenty for adults to love too. Classic characters are revamped. Santa, who goes by North, is given traits of Eastern European/Russian warriors. The Easter Bunny is Australian, complete with boomerangs. The Tooth Fairy is a cross between fairy and hummingbird. The Sandman is made of glittering golden dust and communicates by dust images rather than words. And then we have Jack Frost, a mischievous kid who just wants to play with other kids. All of these clashing personalities adds up to a lot of unexpected humor and action.
This is also a story of finding out who you are. "What's your center?" as North asks Jack. In the beginning, he doesn't know; Jack can't even remember his childhood. But his quest of discovery ultimately helps him in the battle with Pitch.
Dreamworks Animation does a fantastic job as well. The animation is gorgeous and covers wildly different scenes. From stark arctic landscapes to the lush underground warren. The best animation for me was the dream dust and the nightmare dust, especially when they competed.
I only wished that the end battle was a little longer with more action. The end becomes less about the Guardians, and more about the children. There's nothing wrong with that in general, but I felt they pulled back on what I was there to see—which was the battle between Pitch and The Immortal Guardians.
I should also note that this isn't really a Christmas film. It is set around Easter, albeit a snowy Easter. And Jack Frost tends to make the landscape a bit icy and snowy. So if you're hoping for a Christmas movie, that just happens to have other mythical characters, that's not what you're getting. Think of this as more of a superhero movie, like an Avengers filled with childhood myths rather than comic book heroes.
High recommendations for fans of Dreamworks Animation, animated adventures, reimagined fairytales/myths, and kid's movies that appeal to all ages.
Find Rise of the Guardians
Online
|
IMDB
Don't forget to check out the book it's based on!
The Guardians of Childhood by William Joyce
What did you think of Rise of the Guardians?